Maximize Your ROI and Get More Value from Your Advertising Budget with our Google Remarketing services..
Empower your Business with a Recall Value
70% more Conversions than Regular Ads
Boost Brand Awareness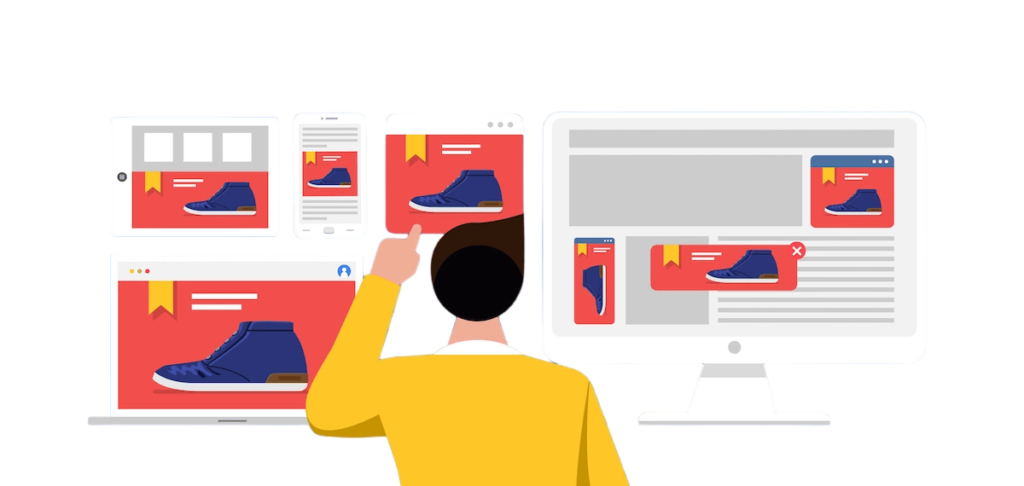 Google Remarketing Ad Services
Reconnect with your customers and boost conversions for your business.
If you wish to reignite your customer's interest in your products or services, then Google Remarketing Ads are where you should invest. Remarketing campaigns are a digital marketing technique that targets customers who have browsed your website but have not made a purchase. Google provides its simplified remarketing tool, allowing your business to remind such customers to complete their purchases.
Google Remarketing is perfect for e-commerce businesses that see a high bounce rate on their website or lots of cart abandonments. SMride can plan and execute your remarketing campaigns in a way that attracts well-qualified prospects, funneling traffic to your site and skyrocketing your conversions.
With a highly persuasive strategy, we can keep your business at the forefront of your customer's minds and compel them to commit to a purchase.
We Get your Sales Team into Action with Remarketing Campaigns
The ability to reach visitors who have not bought from you may sound like a win-win situation, but you need a robust strategy to turn them into your customers. You need professionals who can create the perfect strategy to enhance your conversion opportunities.
SMride has handled remarketing campaigns with budgets of all sizes. We have been successful in delivering the best possible conversions and ROI to businesses ranging from small retail websites to large e-commerce portals.
Our advanced remarketing services consist of the following:

Remarketing can also be used to build brand awareness and upsell to present customers, apart from targeting those who have abandoned their shopping carts. We need to clearly fix on your goals before moving on.
Identify Relevant Audience
We use all our expertise and experience to identify which prospects have the most chances of conversions based on the time spent on your website, the number of pages visited, and other metrics.

We constantly monitor and optimise your remarketing campaigns to get the best results out of them. From creating the most relevant ad copy to conversion tracking, our constant endeavour is to improve ad performance.
Campaign Setup and Launch
We design and create ad sets within the budget for remarketing campaigns which perfectly align with your objectives.
Choose us for Powerful Remarketing Campaigns.
Remarketing ads increase conversions because users are more likely to purchase when they are familiar with the product. We adopt a data-driven approach to remarketing by targeting the most relevant audiences and employing conversion tactics that turns them into customers.
With SMride by your side, you can expect the following:
Other Google Services Offered By Us
Contact Us Today to Learn More
Ready to take your online presence to the next level? Contact SMride Marketing Agency today to learn more about our customized SEO services and content writing. We look forward to helping you achieve your business goals and grow your online presence.
An overview of Google remarketing ads.
One of the most potent tactics in digital advertising is Google Remarketing Ads. Its simplest definition is presenting your adverts to people who have previously viewed or engaged with them. These advertisements may appear across the web in several places, such as Google Search Ads, Google Display Partner Sites, YouTube, Gmail, and some apps.
Your Google remarketing Ads can take on a variety of forms according to the range of platforms you have available (Search, YouTube, 3rd party sites, etc.). They could be in text, images, videos, or all three! You may target Google users based on various demographics, including age, sex, location, and many other factors. You can choose your targeting criteria once your ads are ready.
Do you know that over 92% of All internet users can be reached by the Google Display Network, which includes Google, YouTube, Gmail, and other third-party websites? It is a startling statistic and the primary justification for why Google remarketing is crucial – it enables you to locate your consumers wherever they may be on the internet! Working within the Google Display Network allows you to advertise your goods and services to a worldwide clientele and attract new clients who otherwise would need to be made aware of your company's existence.
Is the second factor making Google remarketing so crucial? Efficiency! Yes, it's critical to attract new clients to build brand recognition. Still, it's just as essential to moving prospects through your sales funnel in order to maximize the possibility of a conversion. By rewarding consumers who have previously interacted with your website or advertisements, remarketing can also assist you in enhancing brand loyalty. Working smarter, not harder, is the goal of Google remarketing ads.
While properly setting up your Google remarketing campaign is crucial, monitoring your campaign is the REAL trip. To have your campaign as optimized as possible, do various testing. Interesting findings can be obtained by experimenting with different list member durations and gender targeting. Additionally, we advise omitting several categories and lists using specific combinations.
Monitoring lost impression share or A/B testing your landing pages, creatives, and a copy can also be beneficial. The objective is to attempt new things while following a plan continuously. It's critical to remember that improving your Google remarketing campaign is a continuous activity that will continue for the duration of your campaign. It's where you can transform a typical advertising campaign into a cash-generating machine.
Although the idea is easy to understand, setting up Google remarketing Ads can be challenging, especially for new users. You must already have a Google Ads account to run a remarketing advertisement. After setting up your account, you must add some Google remarketing code to your website. This tag, also called a "pixel," aids Google in keeping track of the individuals who ought to be retargeted with your advertisements.
Your preferences for remarketing can be as general or specific as you desire. Anyone who has already seen your ad can be retargeted. Alternatively, you can develop highly complicated methods based on the user's location, age, and response to your advertisement. By doing this, you will keep in touch with visitors who have left your website and boost your conversion rate.
Ensure you have a Google Ads account before beginning your own Google remarketing campaign. Next, you should confirm that your tagging settings are correct; you can do this in the Tools & Settings area. The next step is to create your retargeting lists. We strongly advise intentionally retargeting lists rather than just targeting "All Users."
The appropriate assets (the locations where you want your adverts to appear) should next be decided. But it's also essential to run your campaign well. While many businesses prefer to use Google Search Ads for retargeting campaigns, GDN (Google Display Network) is also viable. The magic will then start, and you'll launch your campaign!
Google remarketing campaigns will vary in cost depending on several circumstances. First off – your budget. How much are you able to budget for the campaign? More is always merrier, but by committing to a decent budget (no less than $400/month), you can get enough data to make conclusive decisions. The other factors that will help determine your costs are your bidding strategy and how many platforms you want your ads to appear on. 
It's also important to remember that costs will vary based on your industry. For example, eCommerce companies usually have a lower CPC (cost per click) than service businesses. It makes sense, given the dramatic difference in the value of a lead or a sale. Other factors that will affect your campaign costs are:
Your bidding strategy.

Target audience.

Ad schedule.

Landing page experience.

Click-through rate.

Audience membership duration.
That's why having someone experienced at the helm of your ad campaign is crucial. 
How Google remarketing services can help your business.
You'll be glad to know that skilled firms can help you plan and carry out your Google remarketing campaign if you wish to launch one and have a budget. With the help of Google remarketing agencies like SMride, your company can expand, and you can achieve a staggering return on investment by setting up and improving digital advertising campaigns.
It's like working with a partner when you work with an agency. Because their success depends on your success, the agency will be intensely motivated to produce the best results. It's a win-win situation if clients have better results, you enjoy dealing with them, and the agency earns more money. But it's also crucial to remember that not all agencies produce results of the same caliber. Make sure you select a company with experience that achieves outstanding results.
There are a few different ways to measure how well your Google remarketing ads have performed. To track your campaign's performance, you will need to understand various metrics and KPIs related to your campaign. It should also be noted that your KPIs will vary depending on your niche, your business model, and your overall remarketing strategy. 
Start with one of the simplest metrics – your click-through rate. This metric (commonly referred to as CTR) is crucial when understanding how many people are actually engaging with your advertisements. Your Quality Score is another essential metric to keep track of, as it shows you how relevant your ads are to searcher's queries. Arguably the most important metrics are conversion-based metrics. You will need to figure out your conversion rates and cost per conversion to truly gauge how successful your Google remarketing campaign is. 
If leads are what you seek, then Google remarketing ads could help revolutionize your entire business! We have helped agencies, consultants, real estate companies, and dozens of other businesses generate massive amounts of leads through our remarketing services. The key is to build a funnel and to optimize it relentlessly. This means making sure that the ad copy is alluring, that the creatives are enticing, and that your landing pages inspire action. Once these factors are in place, the leads will start rolling in.
And we aren't just talking about regular leads – Google remarketing helps bring in the highest quality of leads. This is because of the nature of remarketing. The prospects that you target have already shown interest in your services. These are warm leads primed to be converted into blazing hot customers. You just need to ensure that your remarketing campaign is set up correctly and continually being tested and optimized. 
By this point in time, you probably understand the value of running a Google remarketing Campaign. Remarketing allows you to re-engage with people interested in your products or services, which means higher conversion rates for your ads. But while remarketing ads can be an extremely effective means to drive traffic, they are only as effective as the person behind the steering wheel. 
That's where Google remarketing services come into play. By hiring an agency to handle your ads, you ensure that an experienced team of professionals sets up and executes your campaign. Agencies are driven to get results for their clients. This means that you will have an entire team of experts working to deliver the best ROI they can possibly give you. This also helps free up your time to focus on the things you are good at. 
While Google remarketing is the secret strategy that many of the world's top enterprise companies use, the truth is that any sized business can benefit from a remarketing campaign. Small businesses especially! In this current market, small businesses like yours are struggling for exposure and sales. The only way to cut through the noise and generate a loyal customer base is through a sound digital marketing strategy.
As a small business, you know how important it is to stretch your money as far as you can. And that's exactly why Google remarketing Ads are so ideal for you. Our Google remarketing services make your ads work smarter, not harder, allowing you to stretch your investment further and deliver a stellar return on investment. In fact, we have helped thousands of small businesses like yours grow their customer base and scale throughout the APAC region. 
Of course! In fact, if you own or work for an eCommerce business, then Google remarketing Ads are one of the best tools to help grow your company. Most eCommerce companies know the value of Google Ads as they can help grow your brand awareness and generate sales globally. But the TRUE magic happens when your Google Ads campaign is fully integrated into a larger marketing funnel.  
This is because remarketing ads help your eCommerce business work smarter. We know that the margins in the eCommerce industry can be razor thin – you have to closely watch every dollar that you spend! By investing in a Google remarketing campaign, you will be retargeting people who have already shown interest in your products, therefore dramatically increasing the likelihood of a sale. To build and grow a truly global eCommerce brand, you need the right ad strategy in place.